Before we dive in, it's worth noting that over the course of his era, the 10th Doctor wore (at least) four different brown suits, all with their own subtle variations.
However, these suits were all basically the same design; the differences were minor.
They all shared most of the same major characteristics, which we'll look at first in this overview, and then in more detail over the course of the analysis.
I believe it also worth noting that the blue suit, which came along later, was nearly identical to the brown suit in its overall style and construction … although Tennant wore (at least) six subtly different blue suits as well!
This analysis is primarily based on the brown suit and its subtle variations, but much of what we'll be covering in this analysis applied to the blue suit as well. (See my 10th Doctor blue suit analysis for a detailed examination of that suit.)
The major stylistic characteristics of the 10th Doctor's brown suit were:
Single-breasted, four-button closure
Curved lower front
Left external chest pocket with flap
Two lower "faux-flap" pockets (one on each front)
Front fitting darts
Separate side panel/gusset
Single vent at center back
Back waistband above vent
Set-in sleeves with no sleeve vents
Jacket and trousers made of the same fabric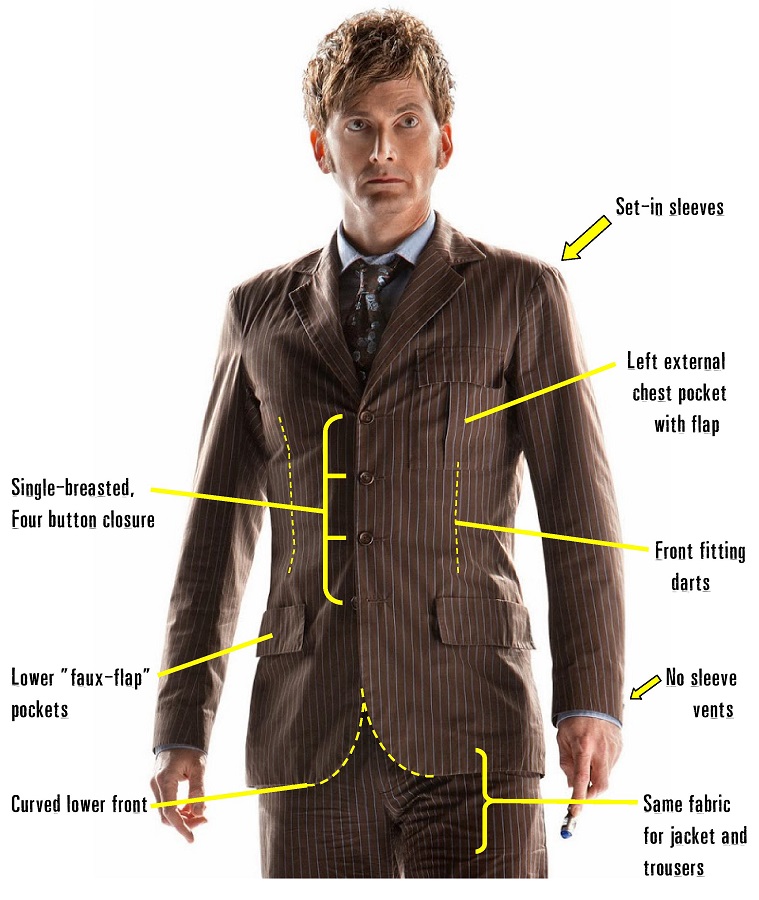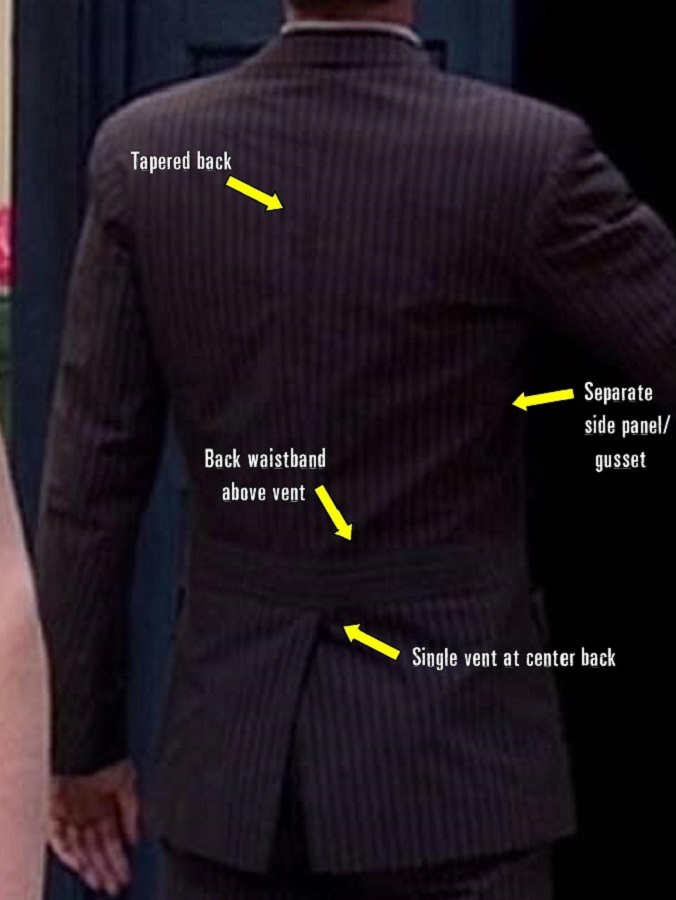 As you can probably observe, the design of the suit subtly accentuated David Tennant's above-average height and slim frame, particularly through the use of the jacket's four-button closure. The front darts and side panel/gusset also favorably contributed to a well-fitted jacket.
About five minutes into the season 3 episode "Daleks in Manhattan" audio commentary, Louise Page mentioned that his suit was based on a 1930s suit, which is pretty cool!
Now that you have a general familiarity with the 10th Doctor's suit, let's move on to a detailed analysis.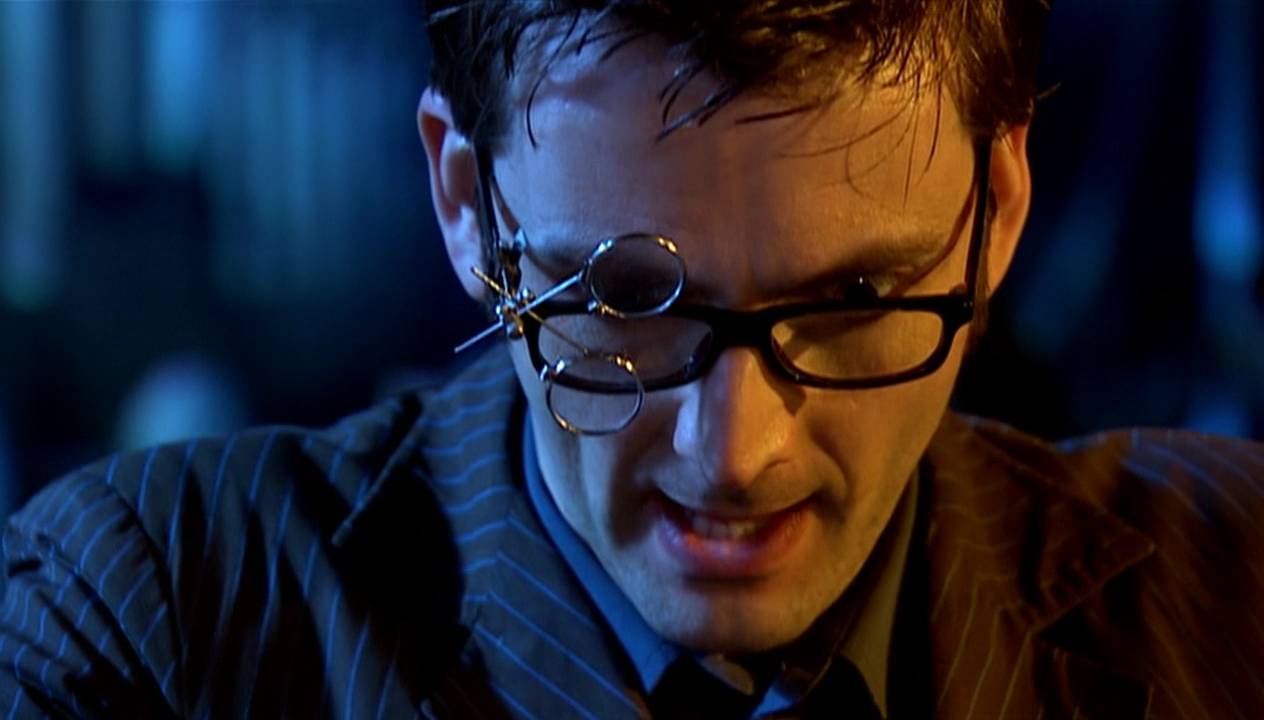 One of the most notable (and memorable) characteristics of the 10th Doctor's brown suit was the fabric itself, which was a lightweight brown cotton material with blue pinstripes woven into it.
The original source for the fabric used to make David Tennant's suits was actually off-the-rack GAP trousers which both he and costume designer Louise Page quite liked, and the trousers were just that – trousers only, not part of a suit or with an accompanying suit jacket.
Page gathered as many pairs of GAP trousers as she could for production use, then she used the disassembled trousers as a fabric source to make the corresponding jackets.
The fabric source being a pile of trousers pant legs probably influenced the suit's design, at least regarding the seam placement; after all, if the actual suit panels couldn't be wider than a pant leg, a separate side panel/gusset was practically mandated!
Interestingly, on screen, the pinstripes varied (subjectively) in color depending on the lighting; sometimes they were quite obviously blue: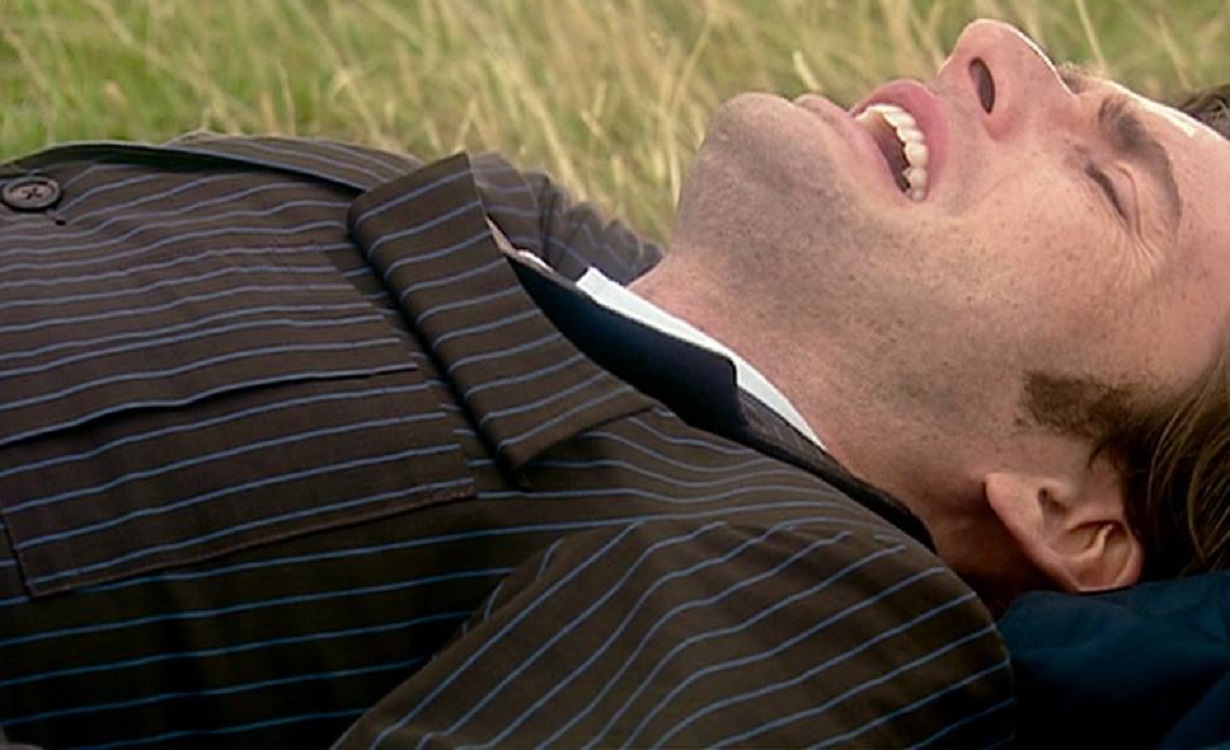 Sometimes those pinstripes really popped!
Being lightweight cotton, the fabric wrinkled rather easily, even areas of the jacket that were heavily-interfaced.
One could most easily observe just how lightweight and "crumply" the fabric was in the collar/lapel area.