Despite everyone's best efforts, with multiple suit jackets in production rotation (each with their own subtle distinctions), sometimes the Doctor's suit jacket would inexplicably change styles during the same episode.
The first instance of this I observed was about halfway through Tennant's first season in "The Idiot's Lantern," during which we saw suit jackets of both back styles (cut on the grain with the center back on a pinstripe, and cut angled with the center back between pinstripes):
We saw this again the next episode:
In the season three finale, the Doctor actually wore three different jackets: one with a decent armscye/sleeve cap, one with an extremely wrinkled one, and one with a beautiful smooth one:
The real mess began the following year, when new brown suits (with a different collar style) were introduced into the costume rotation; the Doctor's suit jacket collars would often inexplicably change:
In the season four finale, the Doctor's collar actually changed between shots during the same scene!
We saw the Doctor's collar change again in "The Next Doctor"; for part of the special, he wore the later version:
The rest of the time, he wore the early version:
Tennant wore the later version of the suit jacket throughout most of his final "proper" special:
However, after his implausible skydive, the Doctor's suit jacket suddenly changed to the early style!
I believe this was most likely because The Powers That Be preferred to distress (i.e. rip, shred, burn, tear, etc.) an older suit jacket than a newer one.
The Doctor's regeneration energy not only healed his face, but his suit as well … and his suit jacket switched back to the later style for his goodbyes and actual regeneration.
The only continuity error I spotted that wasn't related to a costume rotation was early in season three, when this shot of the Doctor was apparently flipped during post-production, resulting in his left chest pocket being on the wrong side:
And finally, whoever edited this season two publicity photo seems to have misplaced one of the Doctor's jacket buttons!
Not only does the lowermost button not properly align with the lowermost buttonhole, but the buttonhole itself is improperly positioned! It's in about the correct vertical position, but it should be one pinstripe closer toward center.
Furthermore, in this particular photo, either the Doctor's jacket only has three buttons (one behind his arms), or it has four (two behind his arms, way too close together) – with an inexplicable lower buttonhole in both cases!
This was almost certainly a photo-editing error, rather than a costuming one; nevertheless, it's a head-scratcher for sure. (Digitally repositioning buttons and buttonholes?!?)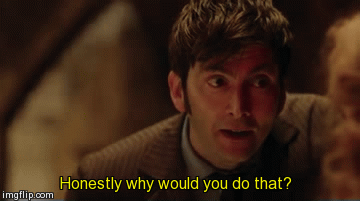 For whatever it's worth, other publicity photos (and photo edits) seemingly from the same shoot appear to have the correct number of buttons and buttonholes, all correctly positioned.